Fix your slow WordPress website!
8+ years experience of speeding up slow WordPress sites.
WordPress speed optimization service is our addiction! If there's even a 50ms improvement anywhere to be had, we will tell you about it. Having managed various sites from hundreds to millions of visitors, we believe page speed is important for any website, especially businesses. Much better user experience (especially on mobile), decreased server loads, and more conversions/sales.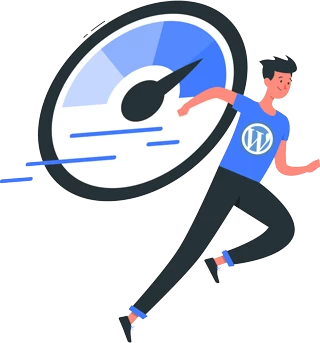 WordPress Speed Optimization Service Offers
Performance Analysis
$99
We will analyse 1 URL you provide, investigating both Query Monitor and Browser output to give you advice on what is slowing this URL down. You will get a screencast of the entire hour of the analysis so you can educate yourself and your developers on what to look at, what to look for and how to look.
Quick Speed-up pack
$499
~1-2 second loads
Cache plugin installation & configuration
Theme settings configuration
Suggest other optimizations you can do.
Before and After optimization report
Enterprise pack
$999
~500ms page loads
Code audit – for theme and all plugins used
Manual hard-coding of theme – remove (or reduce) pagebuilder use
Plugin refactoring – reduce plugin use via hard-coding (within budget)
Extensive database clean-up
No stone left unturned, We optimize EVERYTHING!
We push all clients off a cliff and only focus on you.
This package is for serious sites/businesses only. Ones with thousands of visitors and tons of sales. Even 100ms can make a world of difference, especially for mobile users! (100ms delay on desktop can mean 500ms delay on mobile.)
*Google's recommended webpage speeds are 2 seconds for desktop and 3 seconds for mobile.
Why is your site so slow?
Loading webpages is like pushing a car uphill. Either you increase the engine power (better web server) or lighten the car (decrease code). The problem with many sites is slow servers and bloated code. One common tactic is installing more plugins, adding more code in an attempt to "lighten" existing code. But this often fails as you can only lighten the code by removing it, not by adding to it. Adding code increases the chance of conflicts…breaking your design or functionality.
You Have Just 3 Seconds To Impress Your Visitor. Don't Lose It By Slow Loading. 95% of customers don´t wait if a website takes longer than 5-6 seconds to load!
Our speed philosophy:
Decrease code, not add to it.
Optimize for users, not test scores.
Caching is last.
Page loads must be INSTANT, 3 seconds are too slow for me!
Our optimized sites are record-breaking fast because we opt manual optimization instead of relying on plugins and hacks. We set up caching only after everything is manually-optimized. Using caching first is only a band-aid fix that only decreases page weight and database queries on the cached copy of your site instead of the site itself. Doing it right not only gives you the best speeds but far less design/functionality issues in the future.
How can we help?
WE engraved WORDPRESS SPEED OPTIMIZATION SERVICE JUST FOR YOUR SLOW WEBSITE!
For over one decade we are helping businesses by fixing their slow & leggy websites. We got a solid team of technical specialists to speed up and optimize your website to deliver your expected results to the clients. Trust us, we are yet to come across a website that we can't fix. And we like to keep it that way!

We'll streamline your content to display faster using standards-based techniques (front-end speed optimization), and rearchitect your back-end systems to serve your content more efficiently.
WordPress Speed Optimization Service Timeline
Would you deliver A+ OR 100/100 ?
Optimizing for users is still something that's not understood. Many people don't know any better, chasing that perfect A+ 100/100 Google score without understanding it's implications. Those scores are simply guidelines, nothing more. Hacking your site to score high can in fact make your site load slower for users and only further defeat the purpose of using those test scores. Why should you ignore those page scores? It's because their grading scale is outdated and doesn't reflect the latest web-server technology. SEE

I like instant page loads and nothing else. It needs to appear right away as if it was already on your computer. Any perceived "load" time is too long for me. It is truly magical and life-changing when your site is so fast like you never thought would be possible.
Website Speed and performance Optimization process

Website Evaluation
Our developers will evaluate your existing website status and identify opportunities for improvement.
Our Findings
Once we've analyzed your website, we'll share the analysis report with you, along with our improvement recommendations.
Statement Of Work
Depending on your site analysis and the recommendations, we'll create a project implementation roadmap.

Plan Selection
Based on our findings and your budget, we'll help you choose the pricing plan that is right for you.

Website Optimization
After you've selected the plan and ironed out finer details, we'll appoint a dedicated developer for your site optimization.
Optimization Report
Once it's done, we'll share the page speed improvement reports which will reflect data from popular page speed analysis tools.
We Helped ! Quit Worrying About Speed Hassles
Never worry about a slow load time causing your visitors to leave, or Google penalizing your site for poor technical performance again. Our speed optimization service aims to have your website loading in under two seconds and improving your Core Web Vitals.