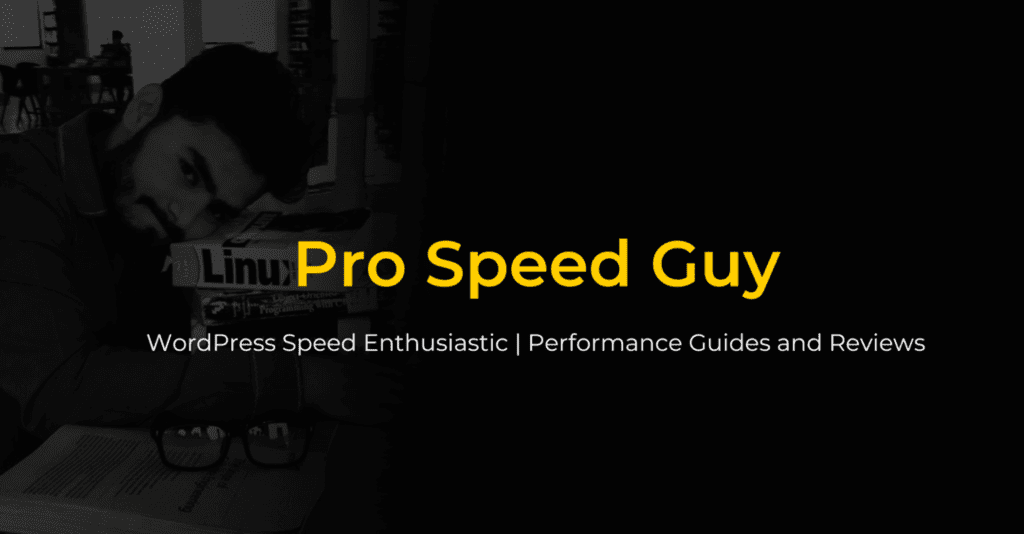 Pro Speed Guy is a no-BS straight to the point WordPress guides and reviews site.
I share helpful guides and reviews on hosting, themes, plugins, design, development, blogging, and marketing.
Guides are detailed and concise to help you make clear decisions.
Reviews are honest, and cover only things that I've actually tried.
This site is not motivated by affiliate revenue, SEO rankings, or popularity.
Affiliate links do exist on my site, and I make $$$ if you buy from them.
The story of how Pro Speed Guy got started
Pro Speed Guy was created so I didn't have to explain the same stuff over and over to clients.

What theme is best?
Why or why not (to use) this webhost?
How do I ____?
Pro Speed Guy exists as a handy copy-paste resource for me and my clients more than anything. It was intended as a private blog to myself…but somehow people keep finding it.
I write only about what I know and work with on a regular basis.
If I love something, I'll tell you. If I hate something, I'll warn you.
What Pro Speed Guy has spiraled into…
I never imagined my little blog would get the attention that it does.
We have professional developers, even theme/plugin developers, designers and SEO experts in there. It's a Digital Noah's ark if you will. Every kind of digital animal in there!
I've not only made friends but also got invited into the coolest development projects. It is an absolute honor to see the future of WordPress as it is being made. And to be consulted for feedback on these projects is beyond my wildest dreams.
About me
Born in Lahore in 1990. Love tech, boxing, and swimming.
I'm an all-around web developer, web marketer, web host, blogger, sys-admin, tech entrepreneur. I've either worked or been a part of every facet of web development and web business for nearly 2 decades now.
I was fortunate to have been a part of or managed so many successful companies over the years. This gives me unique insights into what companies need because I (think I) know where they're going.
My tech skills:
web development & online marketing
traditional marketing/branding, ad campaigns
SEO, PPC (Google Adwords, Facebook ads)
Social media marketing (Facebook, Twitter, Youtube)
design UI/UX direction
content marketing, SEO, copywriting
web server management & speed optimization
WordPress design, development, maintenance, and [speed optimization]
e-commerce (WooCommerce/Shopify/Magento)
Amazon Affiliates, Ebay network
newsletter management (Mailchimp, Mailerlite)
saving people time & money!
…blah blah blah
The Journey Began
I started my lifelong tech career as an IT and network admin guy since 13 years old. After graduating from college, I realized I never wanted to do field calls anymore and switched over to web design and development to work from home (or remotely around the world).
Joomla (just forked from Mambo) was the popular CMS at the time… beloved for its simplicity over the much heavier Drupal. I was actually a very active Joomla community member, won a design contest, and even helped moderate the biggest Joomla communities at the time (Joomlart and Rocket).
But when my fashion blog blew up in popularity in 2012, I thought long and hard about whether Joomla was really the right choice in the long run. On a gut instinct which I lost tons of sleepover… I opted for what seemed like the future of CMS… WordPress!
What a great decision it was. For 10 years, WordPress has not only grown in popularity, endless improvements, and 3rd-party extensions. It's now used not only by more complex sites but also by less tech-savvy users. That's quite the feat! The amount of exciting solutions and incredible people that work with WordPress today is what keeps me so content that I don't even care to look at anything else. Good Luck !
Meet my Wings (team) !
We take your ideas, harmonize them with ours and then turn them into creations that will spread your enthusiasm to your clients.
Developers:
Designers:
SEO Experts: